About Us
Agri-Fab® lawn products are designed for homeowners who want a beautiful lawn and want the job of lawn care to be easy.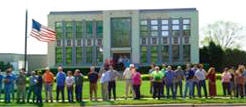 In order to achieve this objective, Agri-Fab® constantly asks you, our customers, how we can improve our current lawn care products. We invite your comments, so please call 800-448-9282 or email us at info@agri-fab.com. We look forward to hearing from you.
Above all of this, is our dedication to building quality and durability into our products. We can assure you that our products are made with the very best components to insure lasting performance. As proof of this commitment, all our lawn care products come with an industry exclusive limited three-year warranty.
You can always be sure when purchasing an Agri-Fab® lawn care product it's made by people who care and will always help make your lawn beautiful and easier to maintain.
Deacon Patient
President