Our Culture
Celebrating over 40 years of Manufacturing Excellence since 1975!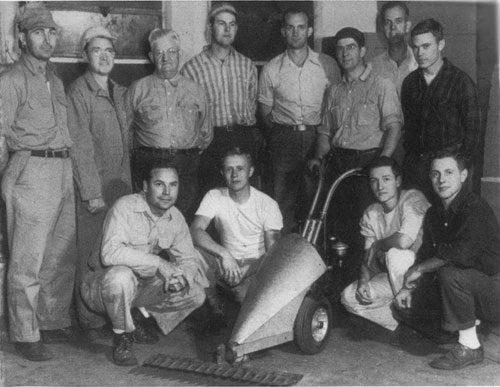 In 1975, an absentee employer closed the doors of a lawn and garden business that was an institution in Sullivan, Illinois. With the goal of restoring the jobs lost to the closure, many individuals pooled their resources to build a new company. In doing so, they continued not only a community tradition, but also a family one. The name Agri-Fab was based on the original mission, to do subcontract work for agricultural companies. At the start, Agri-Fab didn't have a product line, but had good people with a lot of capability and experience. Today, Agri-Fab has grown into a leader in the Lawn and Garden marketplace with shipments reaching around the globe. As successful as Agri-Fab has become, the core goal has not changed, provide a reliable source of employment for the community.
Mission Statement
Guided by a relentless focus on our core values, we design, manufacture, and deliver high-quality, innovative products that improve the lives of our customers, while providing opportunity for our employees, supporting the needs of our community, and creating value for our shareholders.
Core Values
Community - Acting responsibly to our customers, our partners, our employees, and our community.
Relationships - Nurturing strong relationships by prioritizing trust, respect, loyalty, and dignity.
Innovations - Exceeding customer and partner expectations through hard work and innovative thinking.
Faith - Founded on faith, we believe in treating others as we would like to be treated and delivering quality products and services.
Environment
Agri-Fab's environment is one of family, personal and team career development, respect and dignity as well as pride in the work we do and the service we provide.
One of the many great benefits offered to our full time employees is our onsite Proto-Tykes Child Care facility. Founded in 1989, we provide care built on love, trust, and respect for employee children aged 6 weeks to kindergarten entry. Once in kindergarten and continuing through fifth grade, children of employees can attend the before and after school care program Proto-Kids, which also provides full day summer care when school is out.
Today with more than 250 employees our average length of service is 11 years with more than 1/3 of our employees working 15 years up to 40 years.
Our Community
Agri-Fab is proud of our strong community involvement which is highlighted by the donation of land to Habitat for Humanity by AF Holding to the millions of dollars in donations given to various charitable organizations and activities.